Howard Miller + 90 Years = SmartMoves
The trusted choice when deciding on your
next adjustable height desk.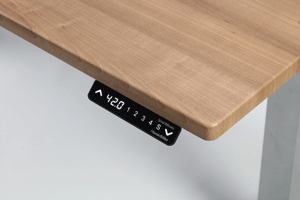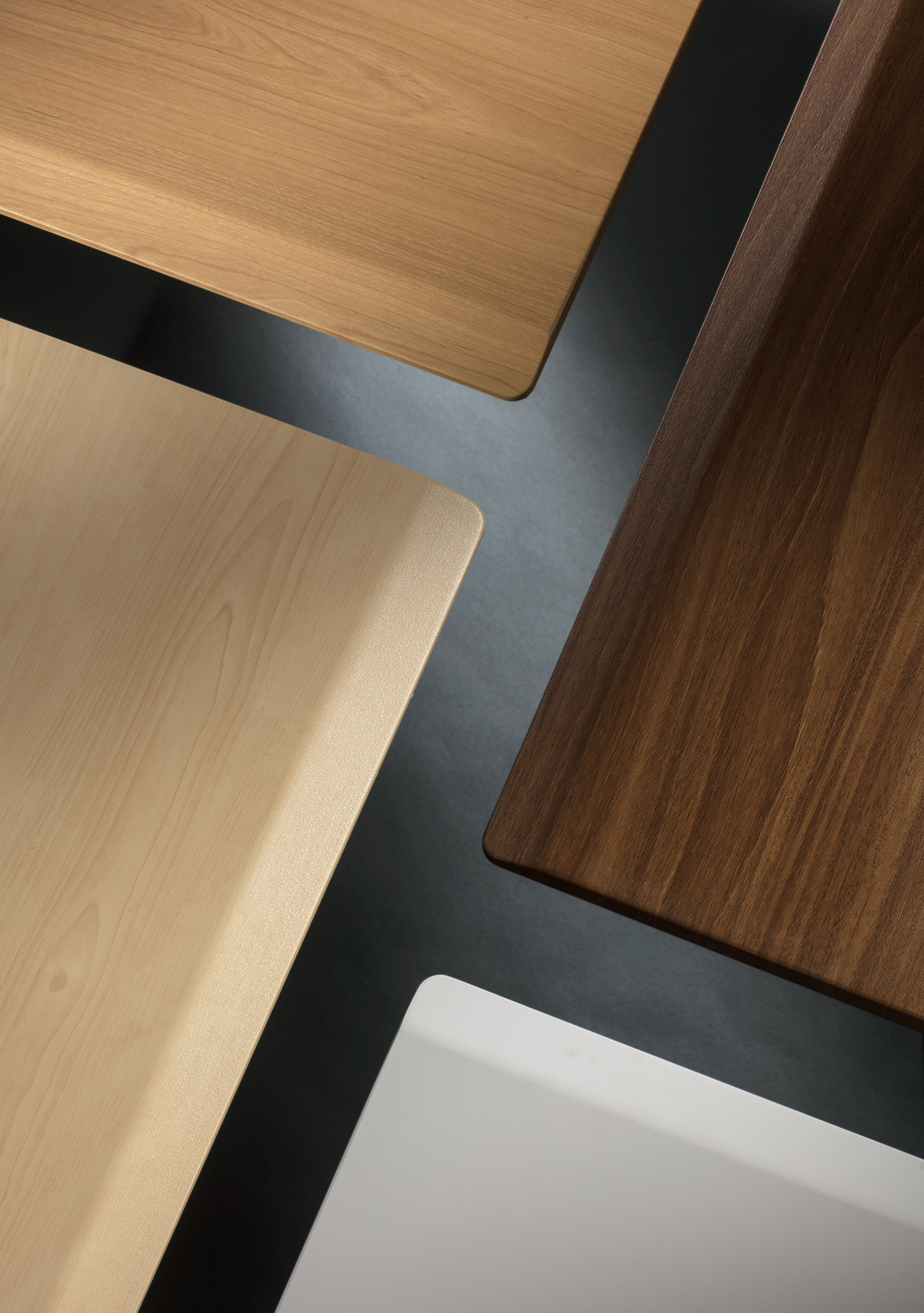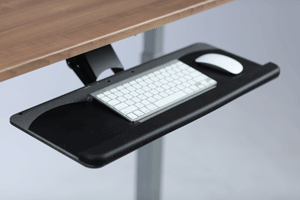 Howard Miller, a family-owned company, is a respected leader in the manufacturing of home and office furniture and has been for more than 90 years. The processes we've developed in that time mean better constructed, more reliable and more affordable adjustable height desks for you.
Custom Memory Adjustment Settings
Adjusting the height of your SmartMoves Adjustable Height Desk is effortless. Electronic controls and FOUR CUSTOM MEMORY SETTINGS allow you to cycle seamlessly through your preferred working positions.
Fast FREE Shipping - SIMPLE Assembly
Your SmartMoves Adjustable Height Desk ships FREE from us to you 3-5 business days. Assembly is simple with limited tools needed, taking no longer than a few minutes to complete.
SmartMoves Thermoshield™
SmartMoves Thermoshield™create a beautiful, durable, easy-to-clean, moisture resistant, seamless surface for SmartMoves Adjustable Height Custom Desktops, Elevated Shelves, and Dropdown Keyboard Drawers. SmartMoves Thermosheild™ surfaces are custom applied in the USA by experienced craftsmen at the time of order, insuring that the profiled edges and flat surfaces fit precisely to the product you ordered.
Simple Customization
SmartMoves Adjustable Height Desks are fully customizable. We offer a range of accessories to accommodate your computer hardware, ensuring your SmartMoves desk is set up exactly the way you like. Plus, the customization process is easy. Your prefect desk, built precisely the way you want, is just a few clicks away.
Solid Construction
SmartMoves Adjustable Height Desks are manufactured to the exact specifications of Howard Miller designers and engineers. The sturdy metal frame, the 1 inch thick fingerprint-resistant desktop and all accessories are built to hold up for years of daily use.
Additional Features
Made in USA
BIFMA approved for product safety, sustainability, and durability
100% recycled wood composite for a denser, stronger desktop
Solid 1" thick desktops for maximum strength and support
Fingerprint resistant Thermoshield™ surfaces
Continuous, seamless soft edges and corners do not crack or peel
Predrilled underside for easy assembly of SmartMoves accessories

Most accessories can be installed on either left or right hand side

Three Desktop Style Options:

Classic Eased Edge
Curved Beveled Eased Edge
Straight Beveled Eased Edge

Three Desktop Size Options:

48" x 30"
60" 30"
72" x 30"

Electric dual-lift motors deliver a quiet yet powerful height adjustment
3-stage base frame creates sturdy height adjustments even at the highest level
350 pound weight capacity
Minimum height 24"
Maximum Height 50"
Lift speed 1.5" per second
Easily starts with the push of one button
Softly and quietly stops when desired height is reached
Safety Feature: SmartStop automatically stops the desk for lowering or raising when it senses an obstruction (like your knees)
SmartMoves Memory Height Keypad

Programmable or manual adjustments
4 custom memory settings
Electronic LED Keypad Display
Howard Miller Company.
Over 90 years of innovation, adaptability,
and the unending pursuit of perfection.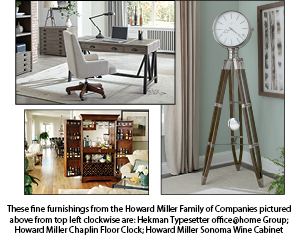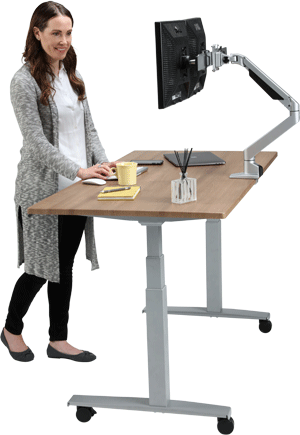 The Howard Miller Company, a family-owned operation, officially opened its doors in 1926, but its roots in American manufacturing run even deeper. Founder and namesake Howard Miller learned the furniture manufacturing business from his father, Herman Miller, who in the early 1900s took advantage of the booming furniture industry in West Michigan to start a new company while simultaneously (and successfully) running another. Howard inherited his father's ambition and business acumen and would draw heavily on both to make his own company a success.
Since its beginnings in 1926, the Howard Miller Company grew and thrived thanks to a combination of hard work, good decisions and uncompromising craftmanship. The formula, still as relevant as ever, is the reason Howard Miller is today one of the largest and most respected manufacturers in the world for home and office furnishings.
Revered from the start for wall, mantel and its world-renowned floor clocks, Howard Miller's catalog has grown over time to include a full range of products, from curio cabinets to home storage solutions, fine upholstered furnishings to hospitality wine cabinets, bars and more.
Ultimately, the story of the Howard Miller is one of innovation, adaptability and the unending pursuit of perfection. With an eye always on the future, the company, now in its third generation of leadership, has developed a new product, one that today's professionals will find indispensable as they pursue perfection in their own careers – the SmartMoves Adjustable Height Desk.
A response to new medical information showing that sitting for too long can be detrimental to one's health, the SmartMoves Adjustable Height Desk raises and lowers seamlessly and effortlessly to accommodate both seated and standing positions for working. The desktop is built in the USA of high-quality Thermoshield™ materials and is customizable to meet the needs of any discerning professional. Coupled with SmartMoves metal adjustable base and an array of smart accessories, the SmartMoves desk delivers an ergonomic, productive, working solution for home or office.
SmartMoves Adjustable Height Desks reflect the history and legacy of Howard Miller, a trusted, world-class furniture manufacturer headquartered in the USA for over 90 years.
A SmartMoves adjustable
height desk redefines what it
means to work a desk job.