FREE SHIPPING | 5-YEAR WARRANTY | 30-DAY HASSLE FREE MONEY BACK GUARANTEE
"My adjustable height desk just arrived and I love it. It was a snap to put together, only a few easy steps. It looks great…very high quality."
Roxy Shalloo
"2nd time buying an adjustable desk and this will be my last! Great Quality. I can tell already that I have a better desk."
Carol Higgenbooth
"I ordered my custom desk just a few days ago and it already arrived. Didn't expect it to arrive so quickly! No hassles. I am really happy with my cool red desk."
Lydia Goosen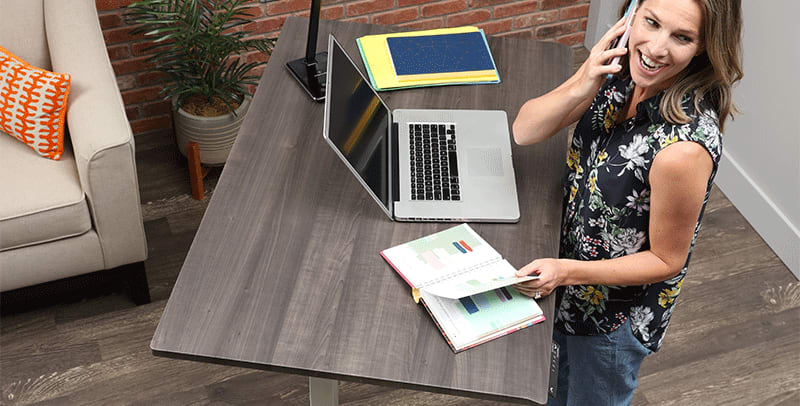 Your Custom Adjustable Height Desk Is Just A Few Simple Clicks Away
Your regular desk doesn't provide you with the flexibility that you deserve. SmartMoves desks are ergonomic and fully customizable, giving you the choice to sit or stand, whenever and wherever you want. Let's customize your desk together, in just a few clicks you get to pick your desk size, shape, color, base color, and accessories. Then you're ready to take advantage of our Free Shipping, 5 Year Limited Warranty, and 30 Day Hassle Free Money Back Guarantee.
SmartMoves desks quickly raise and lower from 24" to 50" in 30 seconds, easily giving you the flexibility, productivity, and the health benefits of standing while you work. Plus, SmartMoves desks are offered in literally hundreds of configurations with your choice of tops, bases, shelves, colors, and accessories. Your dream desk is a few clicks away.
Click Here and Let's Customize Your Desk Together
---
The #1 trusted choice for adjustable height desks.
We know you can choose from any number of adjustable height desk brands. In our line of work, as in yours, knowledge and experience matter, and we have nearly a century's worth of both. SmartMoves is backed by over 90 years of expertise in furniture manufacturing of Howard Miller. The processes we've developed in that time means better constructed, more reliable, and more affordable adjustable height desks for you. Choosing SmartMoves means gaining the flexibility to sit or stand whenever, and wherever you work. Choosing SmartMoves means customizing your dream desk from hundreds of possible configurations with your choice of tops, bases, shelves, colors, and accessories.
Click Here To Learn About Howard Miller and SmartMoves
---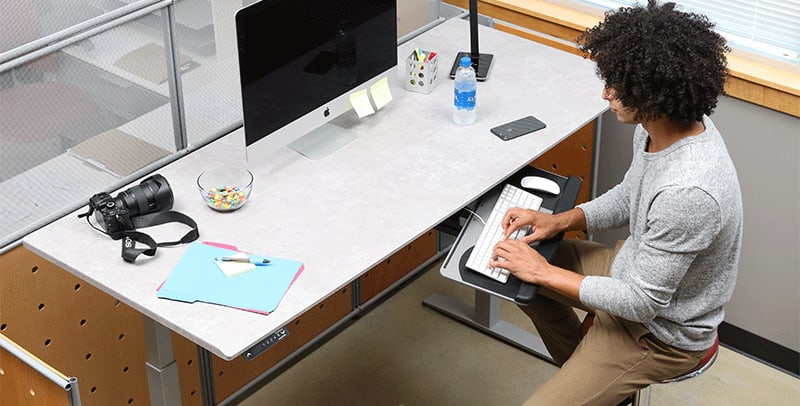 Get Off Your Butt and Get To Work.
You've seen the studies; you know that too much sitting while you work can have a negative impact on your overall health. Luckily, you also know that there's a simple solution…just stand up. SmartMoves adjustable height desks give you the power to choose when you sit and when you stand counteracting many of the harmful effects associated with sitting all day at a stationary desk. A reduction in time spent sitting by about one hour during the average work day could lower body fat percentage by more than 0.5% in a month.
Click Here and Let's Customize Your Desk Together